Kitchen, Food and Cooking Apps
by Kelli Etheridge
Here are some of my favourite apps that make life easier when choosing ingredients, planning meals and cooking.  I've chosen all free apps.
Kitchen Dial
This app is great for figuring out conversions when cooking.  It's easier to measure ¼ cup of something than 4 Tbsp, for example.  You can convert between Celsius and Fahrenheit if you have a cookbook that measures oven temperature in Celsius only and your oven is set to Fahrenheit.  It even has common weights of everyday ingredients.  I used this tool a lot when I'm cooking and doing recipe development, especially when I'm doubling (or more) a recipe for batch cooking.
http://www.kitchendial.com/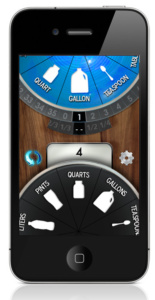 Yummly
Want a place for recipe inspiration?  Yummly is filled with endless meal ideas and recipes.  You can customize your preferences so it shows you what you like to eat most.
http://www.yummly.co/how-it-works/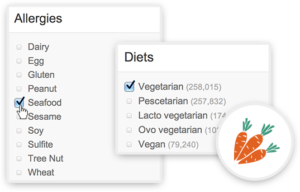 One Sweet App
I love this app because it tells you where the free sugar (added sugar) is hiding in products and how much is in there.  Just scan a barcode using One Sweet App and it will give you feedback.  I suggest using this when shopping to help decide between products (or better yet, decide to make your own).  What's neat is that this app was developed in Canada at the University of Toronto.  It was created in conjunction with the Canadian documentary Sugar Coated (a great movie, available on Netflix).
http://sugarcoateddoc.com/the-app/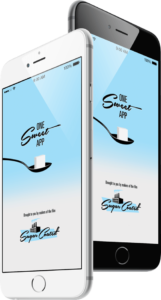 Healthy Living App
This is another app that you can use while shopping and trying to decide which products are healthier.   Just scan the product barcode and the app will give you a rating.  It includes food as well as cosmetics.  This app was created by the Environmental Working Group.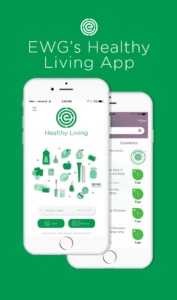 Dirty Dozen
This Environmental Working Group app highlights the fruits and vegetables that contain the most pesticides and should be purchased as organic.  It also gives you the Clean Fifteen list of produce that is lower in pesticide residue.  The app features the list from 2016, which is still very relevant.  The new list just came out for 2017.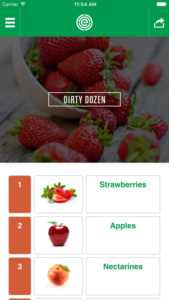 Eat Vegan
Want some plant based recipe inspiration?  Check out this app – it features beautiful photos of a variety of vegan food with complete recipes.  Some recipes are locked, but there are many others from which to choose.
https://itunes.apple.com/ca/app/eat-vegan-delicious-vegan/id1062537593?mt=8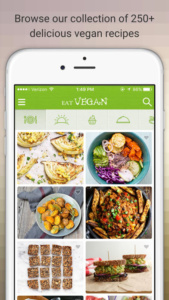 Food Monster
This is a One Green Planet app loaded with recipes and beautiful photography; good photos are important when you are deciding what recipe to choose, right?  The app is customizable to your own eating preferences, such as nut-free, gluten-free, etc.
http://www.onegreenplanet.org/foodmonster/